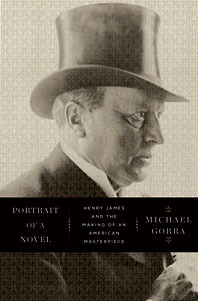 Henry James holds an interesting place in American culture (
even though I just mentioned Henry James, please keep reading!!!
). I have never taught a student who actually read, let alone
enjoyed
, one of James's late novels such as
Golden Bowl
or
The Ambassadors
. Mention James to most faculty members in an English department, and they will act like you just dropped a stinky diaper in the middle of the room. Someone is buying his more difficult novels, but it's not clear whether anyone reads beyond page 20. And yet, people have been willing to go to the movie theatre to watch Nick Nolte play Adam Verver in
Golden Bowl
, or Helena Bonham Carter play Kate Croy in
Wings of the Dove
. Clearly there is something about the stories Henry James created that resonates with filmakers and moviegoers. People just don't want to push through James's complicated, sometimes impenetrable, sentences to get to that something.
The James novel that many readers enjoy is
The Portrait of a Lady
(also a movie, with Nicole Kidman and John Malkovich). It's certainly one of James's best novels, in part because his style is still accessible. In his book
Portrait of a Novel: Henry James and the Making of an American Masterpiece
, Michael Gorra offers a biography of the novel, tying the novel to James's own life and to the historical context in which he wrote the novel. It is an interesting, persuasive explication of the novel, but Gorra accomplishes a more difficult feat. He has written a book of criticism on Henry James for a lay audience, without sacrificing complexity or nuance.
Gorra's book helps explain the appeal of James to a contemporary audience, and shows readers why James is relevant. He also gives the reader an excellent, condensed biography without explicitly writing a biography of Henry James. Academic biographies of Henry James are typically large, multi-volume works. Just looking at those books on display in a bookstore would send most readers running for something a little more, let's say, manageable. Someone who reads Gorra's book will come away with a good sketch of James's life, and the people who were important to him. It's a good read, and worth reading.